Main content starts here, tab to start navigating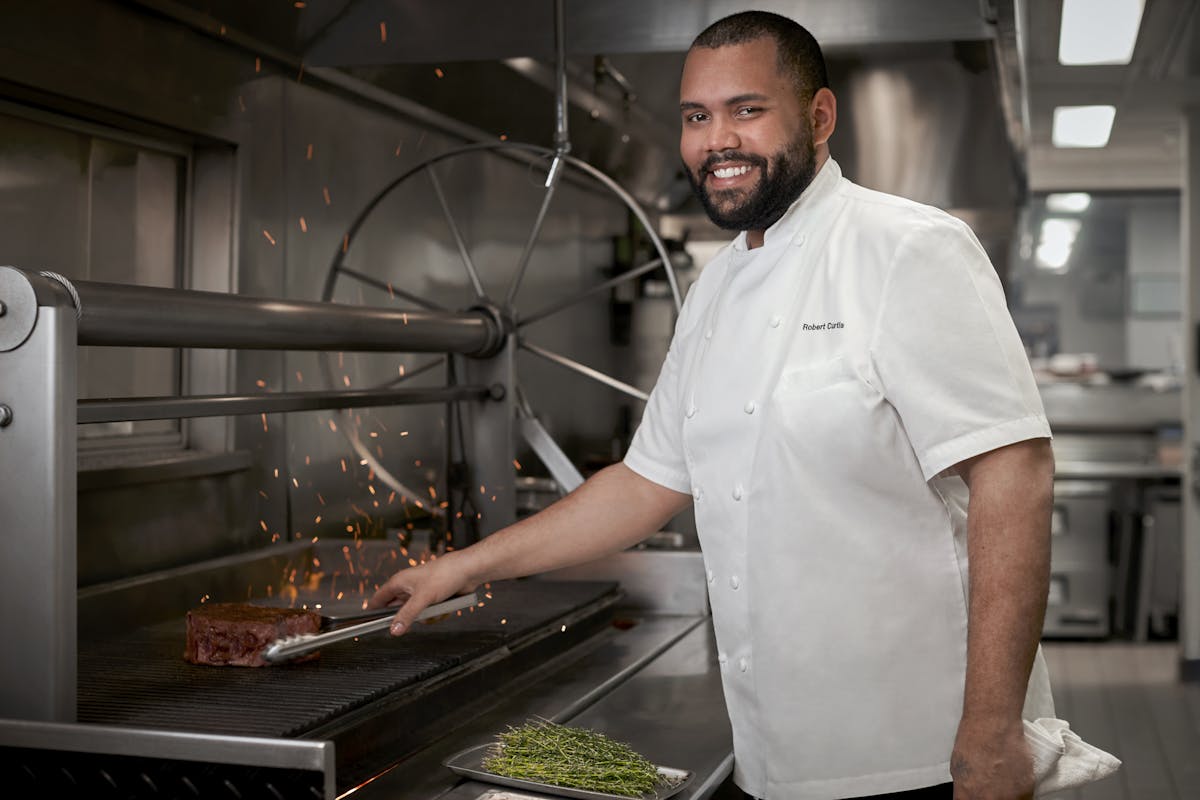 Robert Curtis
Executive Chef
In his role as Executive Chef, Curtis oversees celebrated chef Michael Mina's BOURBON STEAK, award-winning restaurant, and Lounge.
Jose Gonzalez, General Manager of BOURBON STEAK says "We are thrilled to welcome Executive Chef Robert Curtis back to BOURBON STEAK. Robert's native knowledge of the DC area and its wealth of premium local meats, seafood and produce, paired with his experience learning from some of the best Chef's in the world, make him a real asset to BOURBON STEAK."
Born in Philadelphia but raised in Bethesda, Maryland, Curtis has a long tradition of great cooks in his family. His great grandmother would get yearly write-ups in the Times-Picayune for her thanksgiving parties. This long-standing familial relationship with food and family inspired him to attend culinary school. Upon graduating from Johnson & Wales University with a culinary degree in 2010, Curtis returned to the DMV. After working with great DC Chefs such as Robert Weidemeir and Cathal Armstrong at properties Brabo and Restaurant Eve, respectively, Curtis found his way to the Four Seasons Hotel Washington, DC, joining the BOURBON STEAK team for the first time in 2013. His work ethic and commitment to culinary excellence set Curtis apart and he quickly rose through the ranks, eventually becoming Sous-Chef before relocating to Michael Mina's RN47, now shuttered, in San Francisco.
It was in San Francisco that Curtis met his now-wife, Tugçe Salihoglu-Curtis, also a Chef. It ultimately was a time spent in Istanbul and coastal Turkey together that would inspire his future culinary endeavors. "I fell in love with spices, cooking on an open flame, sharing meals that were decadent in their simplicity," says Curtis.
Following two years in San Francisco at RN74, Chef Curtis found himself wanting to see more. Ever the student, well into his career Curtis took the opportunity to apprentice under Rene Redzepi at the incomparable Noma, in Copenhagen. "I was blown away by the commitment and passion at Noma. Every single detail of the experience was handcrafted".
Now, leading the kitchen at BOURBON STEAK DC, Curtis is excited to add his personal touch to Chef Michael Mina's celebrated New American Steakhouse. "I have been working on creating a signature spice rub for our Steaks", Curtis says with excitement, "It tastes amazing when cooked over the fire grill".