Main content starts here, tab to start navigating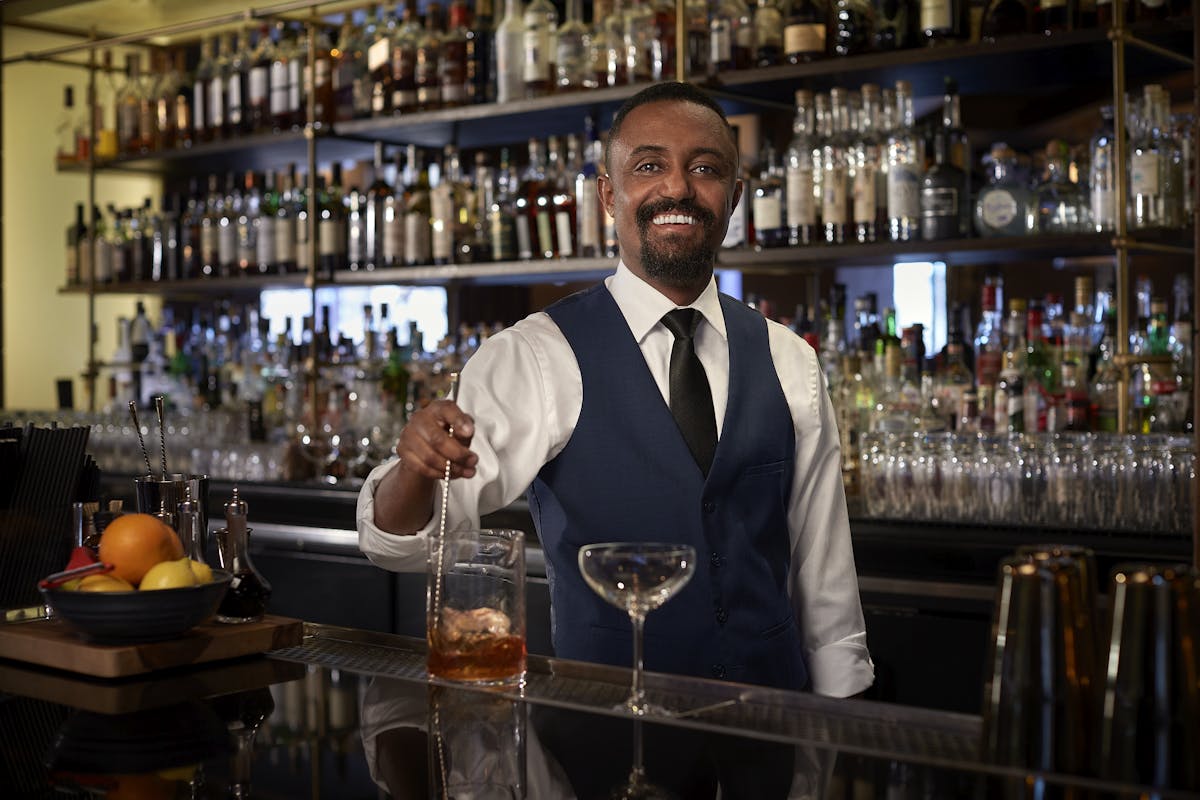 Engidawork Alebachew
Lead Bartender
"I am so excited to continue the legacy of one of the most influential bars in the city."
Four Seasons Tenure
Employment History
Bethesda North Marriott Hotel & Conference Center
Education
Associate Degree in General Science from Northern Virginia Community College, Annandale, Virginia; studied Veterinary Medicine at AAU Ethiopia
Birthplace
Languages Spoken
A former student of bioengineering, Engidawork Alebachew hadn't originally planned on becoming a bartender, but it was the convivial familiarity reminiscent of his big, close-knit family that initially drew Alebachew to the hospitality industry. Now he serves as Lead Bartender of the award-winning Michael Mina restaurant BOURBON STEAK anchoring Four Seasons Hotel Washington, DC, where his engineering training serves him well – as he is always looking to improve upon and re-design classics.
"I've had the unique experience of seeing first-hand what it takes to lead the program at the BOURBON STEAK BAR before stepping into my current position as Lead Bartender. It's been a role ten years in the making, and I am so excited to continue the legacy of one of the influential bars in the city."
Originally from Ethiopia, Alebachew moved to the United States in 2004; several years later, he took on part-time work as a busser when BOURBON STEAK first opened in 2010. He was simultaneously juggling an education in bioengineering, a role as a shift manager for a data processing company, and his work at BOURBON STEAK. While helping out behind the bar at Michael Mina's new American steakhouse, he often fielded questions from guests about the bar program that he had to redirect to the bartenders, before quickly deciding he wanted to study basic techniques so he could engage thoughtfully with guests. "I started working behind the bar, witnessing my mentors create mixology magic and interact with people. I love seeing the interaction between guests at the bar," recollects Alebachew, "I knew this is where I wanted to work moving forward." With the support and mentorship of his colleagues, Alebachew embarked on a new career path.
In spring 2021, Alebachew was appointed Lead Bartender after rising the ranks at BOURBON STEAK for more than a decade. He's been a familiar face behind the BOURBON STEAK BAR since its opening, memorizing drink preferences, sharing stories, and consistently improving upon his knowledge in mixology. The spring of 2021 marked another career milestone for Alebachew: it was the first time the seasonal cocktail list at the award-winning BOURBON STEAK was entire of his own creation.
As Lead Bartender, Alebachew oversees the cocktail program at BOURBON STEAK, from visualizing the seasonal menu, to sourcing spirits and ingredients, and developing the finished list. Alebachew's popular house specials include Alright, Alright, Alright, made with Wild Turkey Longbranch, cream sherry, Aperol Honey, and lemon; EOM, made with Sagamore Rye, Amaro Montenegro, Dolin Dry, and bitters; and Last Minute Shopping, made with Woodinville bourbon, Ardbeg An Oa, cream sherry, Dolin Rouge, Benedictine, and bitters (a large-format cocktail served in a growler for the table). In addition, new creations are added each season. Whether guests are looking for a cocktail to stand up nicely to Executive Chef Robert Curtis's menu of wood-fired proteins or discover their new favourite after-work libation, one thing that remains constant is Alebachew's passion for his craft.